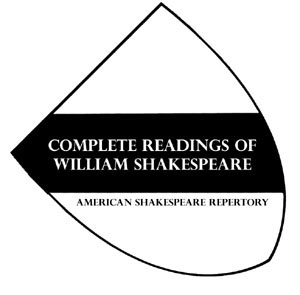 The American Shakespeare Repertory is dedicated to capturing the glory of Shakespeare's plays in the context of the repertory in which they were originally performed. Its productions will explore the unique resonances and discoveries made possible when the plays are juxtaposed against each other; against the other playwrights of the Elizabethan age; and against the multitude of works throughout time which inspired them and have been inspired by them.
Click here for more information.
_____
A Midsummer Night's Dream is a play within a play. The plot revolves around a love pyramid of four young Athenians: Hermia, Lysander, Demetrius and Helena. Here we can read a review from a personal and interesting blog with a post about the work written by William Shakespeare.
Much Ado about Nothing was one of Shakespeare's greatest comedy plays. Secondary students all over the world are using it as a part of their English courses. Here we are using it to build our creativity skills.
The task of this blog is to understand adaptation and the depth of the play.
The blog's author says: «My teacher uses a modern version of Much Ado About nothing to contrast against the original making of the play.»
The BBC, in their remarkable derivative version of Much Ado About Nothing, cleverly work Shakespeare's Sonnet 116 into a scene between the Beatrice analogue and the Benedick analogue. At first, I thought it was just a way to create some romantic tension between the two. Each of them has been told that the other is madly in love with them; each of them has started to fall madly in love with the other; but no one says anything about that. Instead, they read a sonnet together.
But the more I think about it, the more clever it gets. First, it stands in for the exchange of sonnets that the characters in Shakespeare's play make later in the play. Second, it gives the characters the chance to talk seriously on a serious (but non-threatening) topic, and that enables them to appear far more mature than they have to that point in the film. Even during the course of the scene itself (see below), the characters both seem to mature.
Third (and possibly the most interesting), the sonnet («Let me not to the marriage of true minds / Admit impediments») picks up on a word used several times in the play itself—Don John says, «Any bar, any cross, any impediment will be medicinable to me» as he plots his evil course,» and the Ceremony of Matrimony (see the 1552 version below) is echoed in the Friar's «If either of you know any inward impediment why you should not be conjoined, charge you, on your souls, to utter it.» And the word «impediment» is merely a verbalization of the issue of impediment on which the play (and the film) constantly ring changes. For marriages to take place at the end of the play or the film, impediments need to be removed. And, as the wording suggests, that includes «inward» impediments in addition to the usual outward impediments (unsupportive fathers, friends, monetary situations, et cetera) that are the stock-in-trade of this kind of comedy.
Click here for more information and roll down in the blog.
Welcome to Brush Up Your Shakespeare, a blog for indexing links to Shakespeare-related files. We'll be posting links to film, music, audio, e-texts, and anything else we run across that's related to The Bard.
Brush up your Shakespeare!
Click here and roll down to get Much Ado About Nothing archive.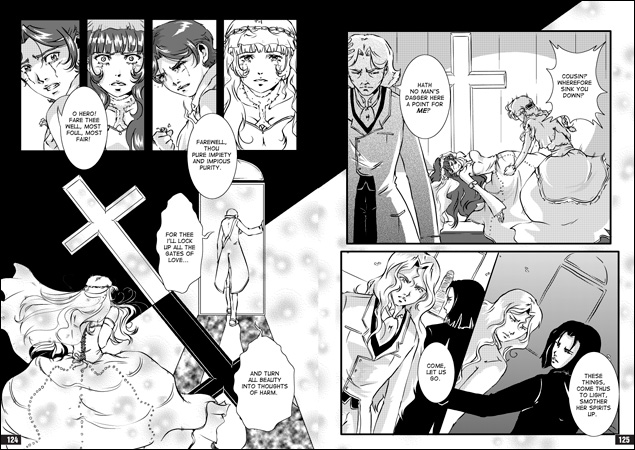 (William Shakespeare, adapted by Richard Appignanesi & illustrated by Emma Vieceli, 208 pages, A5 softback book, Self Made Hero, £7.99)
Benedick and Beatrice are old flames who are now at each other's throats in an on-off battle of cutting remarks on each other's characters. When Benedick and comrade Claudio come back from the wars, Claudio proceeds to fall madly in love with Hero, daughter of the local governor. The villainous Don Jon has other plans though, meaning to put a stop to Hero and Claudio's wedding using trickery. With a backdrop of hijinks as police constable Dogberry investigates what is really going on between Hero and Claudio (with a fake death thrown in for good measure), another plot is hatched; this time to see Benedick and Beatrice fall in love and marry happily…
If you couldn't already tell from the somewhat convoluted plot description, 'Much Ado' is one of Shakespeare's best-loved comedies. I might not have been able to successfully bring it across in so few words, but the pacing and story elements of this play really complement each other. Yes, it's a collection of crazy antics and melodrama, but it never falls into confusion and always remains amusing to read.
Unfortunately, as I'm not a scholar of English Literature, I can't comment on Richard Appignanesi's adaptation of the original text to comic form. However, I can say that Emma Vieceli's artwork suits this particular play very well. Emma's character designs appropriately pick up on each character's unique personality traits. The strong and witty Beatrice keeps her hair done up out of the way and has a slightly more sharp look to her face than the beautiful Hero, who keeps her hair down and flowing, and has larger, more 'girly' features. The artist's light touch with the pen throughout also suits the comic's sunny setting of period Italy.
The production values for 'Much Ado' are very high. It has glossy, full-colour covers and interior pages are printed on good-quality white paper. If someone wanted to use this book for study purposes (i.e. read it through many times, scribble notes in the margins etc.) it seems like it would hold up well to that treatment, whereas a book printed on the newsprint-style paper you get with a lot of mass-market manga wouldn't.
An in depth review and analysis of Branagh's 1992 film adaptation of Shakespeare's Much Ado About Nothing.
Set in Tuscany in Shakespeare's day, Branagh's Much Ado about Nothing tackles one of Shakespeare's warmest plays with affection and assurance. In many ways Branagh's adaptation can be seen as the yardstick against which future big-screen Renaissance Comedies should be measured.
Partners: Branagh, Parfitt and Evans
Branagh, before the release of Much Ado about Nothing in 1993, had already established himself as a 'great director of Shakespeare' through his 1989 adaptation of Henry V, (his debut motion picture).[1] The success of the partnership of producers Branagh, Parfitt and Evans, who had already worked together on Henry V (1989) and Peter's Friends (1992), manifests itself in that one can detect both coherence and a clear sense of direction in every aspect of Much Ado about Nothing, from the music to the cinematography employed.
Branagh successfully blends his clear familiarity with theatrical traditions with an original use of traditional filmic codes, making the transition of the play to the cinema screen a success. He competently adjusts the order of certain scenes to increase interest and maintain the pace and immediacy of the action. For example, scenes such as those involving Dogberry and the night watch are shown in a match-on-action to the simultaneous happenings inside the villa.
Long sequences such as the rush to bathe and change before the arrival of the soldiers at the start of the film are constructed with the realization of a need to expand Shakespeare's sparse stage directions in order to create the necessary context for the film's dialogue. Having outlined these alterations however, overall, the screenplay is very close to the original script; which undoubtedly will please any Shakespeare purists out there.
Branagh fully embraces the range of cinematic techniques at his disposal, including many long, tracking shots in an attempt to increase fluidity of movement between scenes. However, these techniques are not employed without a certain respect for the theatrical origins of the play; many theatrical techniques are still used, for example, following Benedick's overhearing that Beatrice is in love with him he looks directly into the camera with an expression of stupefied amazement, a clear rejection of accepted cinematic faux pas.
Film Setting and Themes
The setting of this filmic adaptation is extremely prevalent throughout. This is highly noticeable when considering the first and last images of the film, both of which are of the Italian landscape. Shot in Villa Vignamaggio, Florence, the calm Tuscan warmth acts to envelop the audience and complement the film's comedic action. Certainly, in such a setting one cannot envision any but a happy ending.
The themes of nature and hidden truth are integral to Shakespearian Comedies, characters often finding truth in the natural environment. Because of this the garden maze plays a large part in the film, used both to symbolize hidden desires in the play and as a hiding place for Benedick and Beatrice on the overhearing of the other's love. The abundance of exterior scenes is also one way in which Branagh seeks to employ filmic conventions, avoiding the aesthetic of the stage by often using the panoramic Tuscan landscape as a backdrop for scenes.
Read more at Suite101: Branagh's 1992 Film Adaptation of Much Ado About Nothing: A Review.
I have found this blog about Shakespeare and his works.
You can see in this blog interesting posts about Shakespeare adaptations with links and opinions about some Much Ado About Nothing adaptations.