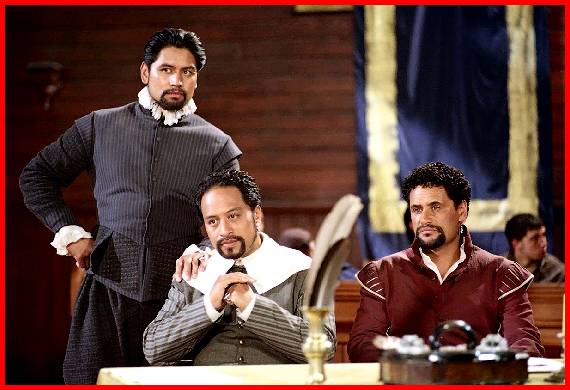 The Maori Merchant of Venice, the Maori film version of the English bard William Shakespeare's classic play The Merchant of Venice, brings an exotic look, a musically rich soundtrack and a unique cultural mix to Shakespearean tradition.
The revenge drama of Jewish moneylender Shylock and his quest for a pound of Christian merchant Antonio's flesh as payment, or utu, for a defaulted loan, is told in the Maori language with easy-to-read subtitles in modern English.
The Maori Merchant of Venice contributes to the modern Shakespeare revival (Romeo & Juliet, Shakespeare in Love, Midsummer Night's Dream) and comes in the wake of the success of Chinese language/English subtitled Crouching Tiger, Hidden Dragon.
The director and executive producer of the film, Don C Selwyn, has a long-standing and distinguished career in the New Zealand film and television industry as an actor, producer and director. He is a leading proponent of Maori drama, performed in both Maori and English, and a prime mover in encouraging respect for Maori viewpoints and culture in mainstream New Zealand film and television drama. He has devoted many years to training Maori and Pacific film makers and is a mentor and inspiration to many now working in the industry.
Selwyn is a founder (with producer Ruth Kaupua Panapa) of He Taonga Films, the production company for The Maori Merchant of Venice.
He has been well known in New Zealand as a film and television actor since 1977's Sleeping Dogs, the first New Zealand feature to be exhibited internationally, and which began the Hollywood careers of Roger Donaldson and Sam Neill.
For Selwyn, an experienced Shakespearean actor whose roles encompass Oberon, Caesar, Antony, Othello and Shylock; theatre director (The Merchant of Venice) and Maori language film director and producer (Maaui Pootiki, Tohunga, Te Ohaki o Nihe), this is a project which combines his passion for Shakespeare with his commitment to the revitalisation of the Maori language.
Renowned Maori scholar Dr Pei Te Hurinui Jones translated Shakepeare's poetic 16th Century English into formal, poetic Maori in 1945. In addition to The Merchant of Venice, he translated Shakespeare's Midsummer Night's Dream and Julius Caesar into Maori. He wished to make the beauty and the power of Shakespeare's message accessible to Maori people. He did this alongside his other major work of translating ancient Maori songs into English.
In the late 1950s, Jones told Selwyn of the translation of The Merchant of Venice and of his wish that it be performed one day. Selwyn directed it as a stage play as part of the 1990 Koanga Festival in Auckland, when he was invited to stage a play in Maori.
He saw that it would translate into film and spent the past 10 years seeking funding, in addition to operating He Taonga Films as a production company (Nga Puna, Don't Go Past With Your Nose in the Air, Feathers of Peace, the Tala Pasifika series) and training base for Maori and Pacific film makers.
Alongside his love for Shakespeare, Selwyn's passion for the preservation and enhancement of the Maori language drives him to bring this story to a wider audience. "It is important to keep the poetic side of the language active. We need something more than the cryptic and colloquial translations from modern-day English that is common in Maori now," he says.
Selwyn's visual treatment for turning the play into a film keeps Shakespeare's plot, characters and settings, enhancing them by adding a Maori dimension. "We are using Maori language and cultural elements as a vehicle to be able to express the dynamics that Shakespeare came up with. The characters are not sourced from Maoridom, but there are analogies," he says.
Selwyn's vision for The Maori Merchant of Venice is a dynamic interaction of colourful, strong and distinct cultures. The action takes place at the point where the edges of these cultures meet – in the world of business and law, with overlaps into the world of love and romance.
The Jewish moneylender Shylock (known in Maori as Hairoka) and his opponent, the Christian merchant Antonio (Anatonio), live in a 17th Century Venice achieved by using Italian-inspired buildings in Auckland, inner-harbour waterways and the Herald Island wharf as filming locations dressed to present Venice as a cosmopolitan trading centre.
The wealthy woman who is the key to the dispute and its solution, Portia (Pohia), lives in the magical land of Belmont (Peremona), which Shakespeare created as a fictitious place. The film locates it in New Zealand by incorporating Maori art, music and culture in the design and staging of events. For example, when the Prince of Morocco arrives in Peremona to seek Portia's hand in marriage, he is given a ceremonial Maori welcome with conch shell, and karanga (female cry of welcome) counterpointed by Moroccan trumpets and song.
Her suitors put their case to Portia accompanied by Italian-style operatic arias performed in Maori by opera singers William Winitana and Mere Boynton, intermingled with traditional Maori wind instruments, played by Maori music expert Hirini Melbourne. When Shylock and Antonio do their business deal, they happen to be in an art gallery, part of the Venice marketplace, filled with the work of renowned artist Selwyn Muru.
The Maori Merchant of Venice has an original orchestral score by award-winning composer Clive Cockburn (Mikhail Lermontov) and played by the New Zealand Symphony Orchestra, overlaid with haunting vocals by Kui Wano and choral performances by the St Joseph's Maori Girls Choir. The soundtrack was recorded by the Radio New Zealand recording department at Wellington's Michael Fowler Centre.
The cast is a mix of seasoned actors and exciting newcomers, headed by Waihoroi Shortland (48) as Shylock, the role he played in Selwyn's 1990 stage production. He is also known as a writer (Crooked Earth).
Selwyn chose a predominantly young cast with high levels of proficiency in Maori, aiming to inspire other young Maori to take up the language.
Antonio is played by Maori language university lecturer and first-time actor Scott Morrison (29), a cousin of Temuera Morrison. Portia is newcomer Ngarimu Daniels (22), a Maori radio newsreader and kapa haka (traditional Maori dance) tutor. Bassanio is played by Te Rangihau Gilbert (36), whose early acting roles include Utu and The Silent One when he was a teenager. Actor/university student Sonny Kirikiri (36) (The Piano, Feathers of Peace) plays Gratiano and radio personality/actress Veeshayne Armstrong (28) (Jackson's Wharf) is Nerissa.
Reikura Morgan (22), a childrens' television presenter (Pukana), plays Jessica and her real-life boyfriend Te Arepa Kahi (23) (Mataku, Shortland Street), plays her on-screen lover Lorenzo. Lawrence Makoare (32) (Crooked Earth, What Becomes of the Broken Hearted), plays the Prince of Morocco.
The film also features singers Ardre Broughton-Foote, William Winitana and Mere Boynton, Auckland Dance Company dancer Justine Hohaia, traditional musician Hirini Melbourne and artist Selwyn Muru in cameo roles. In a tribute to the history of the New Zealand film industry, veteran actress/film maker Ramai Hayward appears in the court crowd scene.
The film was made by a multi-cultural crew, including Croatian director of photography Davorin Fahn (Small Town Blues, Aroha), award-winning Maori designer Guy Moana (Once Were Warriors, Moko Toa), editor Bella Erikson (Feathers of Peace) and many other experienced Maori and Pakeha professionals plus several trainees, in accord with He Taonga Films' kaupapa (philosophy).
Shakespeare's The Merchant of Venice has been performed as a play in countless interpretations all over the world through the centuries since it was written in about 1596. There were six silent movies made before 1923 and seven English-language television productions since 1947. The best-known was a 1973 television presentation of the stage play starring Sir Laurence Olivier as Shylock and Joan Plowright as Portia. The BBC made a television film in 1980, starring Warren Mitchell as Shylock and the most recent starred Bob Peck in 1996.
The only previous non-English language version seems to be a French/Italian film made in 1952, directed by Pierre Bilon.
The Maori Merchant of Venice is the first Shakespeare film to be produced in New Zealand and the first to be performed in Maori. It is also the first Maori-language feature film. It is funded by Te Mangai Paho, the funding body for Maori language film and television projects, with marketing assistance from the New Zealand Film Commission. Production company: He Taonga Films. Distributor: Metropolis Film. Executive producer/director: Don C Selwyn, associate producers: Selwyn Muru, Sir Robert Mahuta, producer: Ruth Kaupua Panapa; director of photography: Davorin Fahn, production designer: Guy Moana, composer: Clive Cockburn, Maori music composer Hirini Melbourne, editor Bella Erickson.
From maorimerchantofvenice.com
_____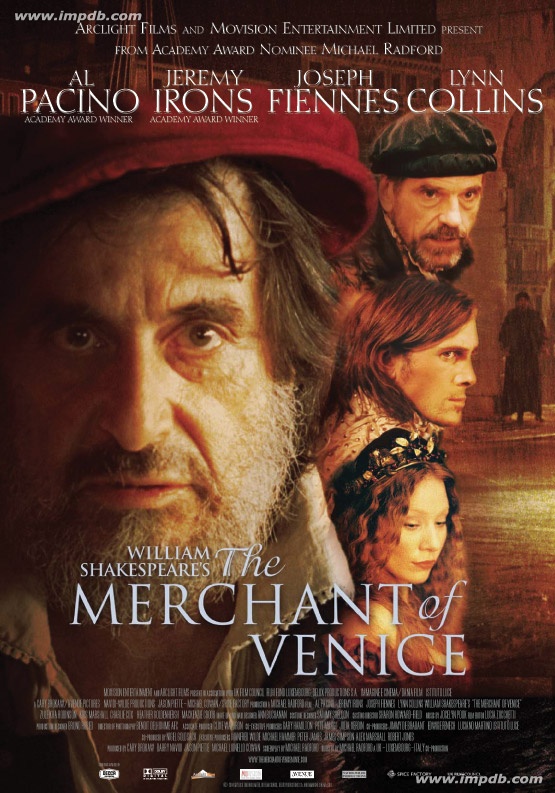 At first glance, William Shakespeare's The Merchant Of Venice would seem an unlikely candidate for a big-screen treatment. An unwieldy blend of romantic comedy and tragic melodrama, this 'problem play' has to clear an additional hurdle in our enlightened times thanks to its characterisation of Shylock, the Jewish moneylender who seeks a literal pound of flesh from his Christian nemesis. Michael Radford's gloomy film is a long and slightly draining haul, but the intensity of Al Pacino's central performance justifies the effort required.
In Shakespeare's time, Shylock was played as a crude, anti-Semitic caricature. Radford's film, however, offers a far more contemporary interpretation, with the Jew's scheme against Jeremy Irons' Antonio motivated by an outsider's sense of injustice and persecution. Irons, too, has a psychological burden to carry as his merchant's decision to indebt himself to Shylock is a result of his unspoken homosexual lust for Joseph Fiennes' fortune-hunting playboy Bassanio.
With the latter off courting the fair Portia (played by newcomer Lynn Collins, whose uncanny resemblance to Gwyneth Paltrow, Fiennes' Shakespeare In Love co-star, can hardly be a coincidence), Antonio must face the music as Shylock demands his bloody forfeit in court. The trial scene is the centrepiece of any stage production and is no less effective here, with Al's implacable avenger chillingly unmoved by the disguised Portia's eloquent protestations.
«OPPRESSIVELY SOMBRE AND TORTUOUS»
Radford's decision to keep faith with the play's 16th-century setting pays off in authentic Venetian locations and a painterly use of light and shadow. But the oppressively sombre mood and torturous pace make this harder work than it should be, with Pacino's melancholy presence dominating proceedings long after his premature exit. The movie is worth catching on the strength of his work alone. Despite this, you can't help thinking it will confirm more prejudices about filmed Shakespeare than it confounds.
_____
Film adaptations
The Shakespeare play has inspired several films.